---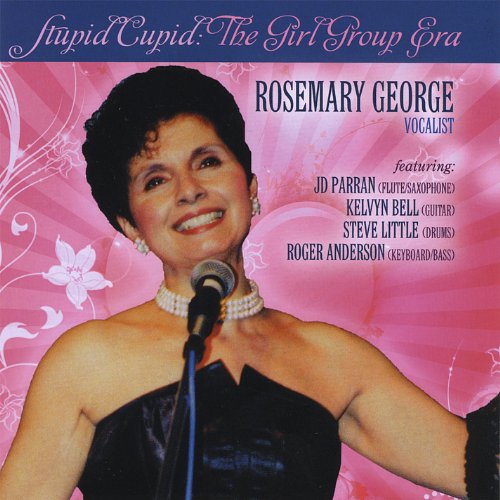 Internationally acclaimed for her work in a variety of genres ranging from the classical to musical theater and jazz, vocalist Rosemary George belts out selections from her new revue, Stupid Cupid: The Girl Group Era.
She is joined by a band of renown's including: JD Parran (saxophone), Kelvyn "Kelvynator" Bell (guitar), Steve Little (drums), music director Roger Anderson (keyboard) and vocalists Brenda Alexander and Marcus Dargan. Rosemary George performs songs from the 1960's Girl Group Era made popular by Connie Francis, Lesley Gore, Brenda Lee, Barbara Lewis, The Supremes, et al. From "Break It To Me Gently" and "You're Mama Don't Dance," to "It's My Party" and "Where The Boys Are", you'll hear the logical transition from the Blues and Swing to Rock 'n Roll.
---
Stupid Cupid: The Girl Group Era is a compilation of songs selected from Rosemary's revue, The Songs and Dances of the 50's and 60's, which premiered in Hong Kong in the beautiful venues of the New Territories, touring through London's West End (Jermyn Street Theatre) and Covent Garden (Octave Jazz Club), and most recently in New York at Lang Hall, The Stone and Harlem Black Box Theater.

Stupid Cupid Available on CD or Download
Amazon | iTunes | CDBaby
---
Tour Dates
Edinburgh Festival Fringe, C nova​, London (2014)
Leicester Square Theatre, Main House, London (2013)
Hudson River Museum, New York (2010)
Hunter College Lang Hall, New York (2009)
The Jermyn Street Theatre, London (2008)
Octave Jazz Club in Covent Garden, London (2008)
Sha Tin Town Hall, Yuen Long Theatre, Kwai Tsing Theatre, Hong Kong (2006)
Harlem Black Box Theater, New York (2009)