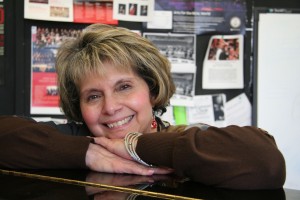 Under the auspices of Columbia Artist Management's Community Concert Series, Rosemary George has performed throughout the United States and Canada in concert, opera and musical theater. She made her formal New York recital debut at Carnegie Recital Hall as winner of the East and West Artist's Competition. She has subsequently performed in some of New York's major concert venues and landmark sites, including Merkin Hall, Symphony Space, the 92nd Street Y, Bargemusic and the Pierpont Morgan Library. Her performance at the National Gallery of Art in Washington was aired live over National Public Radio and she has appeared on numerous radio stations such as WNYC's "Young American Singers" Series, WQXR's "Listening Room" with Robert Sherman, and the "Bösendorfer Piano in Concert" Series on WNCN. She has been a featured soloist on numerous college and university artist series including Dartmouth College, New York University, the Citadel, and the George G. Astman International Recital Series at Hofstra University. Ms. George has collaborated with such luminaries as Margo Garrett, Steven Blier, Gerald A. Brown, Nicholas Zumbro and Kenneth Cooper.

Rosemary George has taken her one woman Cabaret Act to London's Barbican Centre, the International Concert series at St. James' Piccadilly, and to the 50th Anniversary of the Edinburgh Festival Fringe where the Scotsman Newspaper remarked, "Hers is a beautiful voice. This singer's stamp and style are in themselves impeccable." Upon her return to the Festival, she became the "Pick of the Day" and performed on BBC Scotland's "Five Live." In 1997 she received the distinction of being the first American singer to … "grace the stage of the North Theatre with her beautiful voice and heartfelt singing " at the Jerash Festival of Culture and Art in Amman, Jordan—an early Roman City of ruins built in 100 B.C. She also sang for diplomats at the American Embassy in Amman and her performances were televised throughout the Middle East and Europe.For many years, Rosemary George studied voice with Daniel Ferro. She received a Masters Degree in Voice from The Manhattan School of Music, a Bachelor of Arts Degree in Voice and Piano from the University of Vermont and an Associate in Arts Degree from Vermont College where she became the first recipient of the Frank Chatterton Memorial Prize in Music.
As a vocal coach and educator, Rosemary coached the winners of the televised Latino vocal competition La Nueva Estrella, initiated by Mayor Michael Bloomberg. Aside from her tenured position at Professional Performing Arts School in the Lincoln Center Vocal program, she is currently on the music faculty of The Borough of Manhattan Community College of the City University of New York and in the Department of Continuing Education at Hunter College.
Cabaret Highlights
Broadway and All That Jazz
Leicester Square Theatre, Lounge, London (2015)
Jazz Tuesdays, Baha'i Center, John Birks Gillespie Auditorium, New York (2014, 2015)
The Putnam Chorale's Pop Concert, New York (2006)
Cultural Centre, Hong Kong (2004)
Museum for the American Piano, New York (2003)
Theatre Museum, Covent Garden, London (2003)
Stupid Cupid: The Girl Group Era
Edinburgh Festival Fringe, C nova​, Scotland (2014)
Leicester Square Theatre, Main House, London (2013)
Hudson River Museum, New York (2010)
Harlem Black Box Theater, New York (2009)
Hunter College Lang Hall, New York (2009)
The Jermyn Street Theatre, London (2008)
Octave Jazz Club at Covent Garden, London (2008)
Sha Tin Town Hall, Yuen Long Theatre, Kwai Tsing Theatre, Hong Kong (2006)
Billie Holiday: The American Songbook
Baruch Performing Arts Center, Engelman Recital Hall, New York (2014)
Torch 'N Blues
B'Hai Center, New York (2012)
Dwyer Cultural Center, New York (2011)
Theaterlab, New York (2011)
Jazz Jaunts presents the Hudson Park Series, New York (2010)
The Cornelia Street Cafe, New York (2010)
Rock 'n Roll Revue
The Stone, New York (2008)
The Cornelia Street Cafe's Po' Jazz Series, hosted by poet Golda Soloman
Revisiting The Sixties, New York (2007)
Blues, Bops and Memories, New York (2006)
Tribute to Louis Armstrong, New York (2005)
The Ladies and Songs of Café Society
Theatre Museum, Covent Garden, London (2005)
The Songs of Broadway
Cultural Centre, Hong Kong (2002)
Flirting With the Blues
Sanchez Art Center, San Francisco (2002)
The Singer and the Song
Theatre Museum, Covent Garden, London (2001)

Operatic Highlights
Premiere Roles
The Goldovsky Opera – Meyrowitz's "Emily Dickinson"
The New York Lyric Opera – Lully's "Acis et Galatee"
Merkin Hall – Zumbro's "Vision"
The 92nd Street Y Chorale/Orchestra – Purcell's "King Arthur"
The American Chamber Opera Company – Larry Lipkus' "Peronelle;" Alec Wilder's "The Truth About Windmills;" Sheldon Harnick's "Frustration;" Jorge Martin's "Tobermory;" Menotti's "The Medium;" Foss' "The Jumping Frog of Calaveras County"
Standard Roles
Opera North – Cherubino
Goldovsky Opera – Rosina
Vermont Symphony Orchestra – Dorabella
New Hampshire Music Festival – Third Lady
Damrosch Park at Lincoln Center – Dinah