Audio clip: Adobe Flash Player (version 9 or above) is required to play this audio clip. Download the latest version here. You also need to have JavaScript enabled in your browser.
From New York to London, from San Francisco to Asia and the Middle East, Rosemary George is critically acclaimed for her "beautiful voice," "charming personality," "defined elegance" and "impeccable style."
Rosemary George has been featured with some of the nation's leading music festivals including Caramoor, New Hampshire Music Festival, The Long Island Beethoven Festival, Waterloo Music Festival, and Lincoln Center Out of Doors.
For several seasons New York audiences have delighted in her performances with the New York Festival of American Music Theater at Lincoln Center and she has been a frequent soloist with the National Chorale's On Broadway Series at Avery Fisher Hall.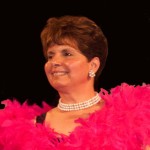 Torch 'N Blues
Featuring tributes to Louis Armstrong, Billie Holiday and a trip down the Broadway of Black America, Rosemary George presents an eclectic show including songs from the Waller/Razaf revue Hot Chocolates," "Showboat," "Porgy and Bess" as well surprises from reed man JD Parran and original blues songs by renowned guitar player Kelvyn Bell.Click here for more info.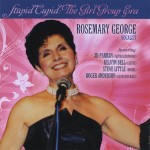 Stupid Cupid: The Girl Group Era
Rosemary George belts out songs from the 1960s Girl groups made popular by Connie Francis, Lesley Gore, Brenda Lee, Barbara Lewis, The Chiffons, and more. From "Break It to Me Gently" and "You're Mama Don't Dance" to "It's My Party" and "Where the Boys Are," we hear the logical transition from the Blues to Rock 'n Roll.Click here for more info.Click here to purchase tickets.